PLCs are primarily designed to control intricate industrial processes, like running machines and motors. They are easy to program and fully scalable as per the requirement of an operation. They are also used to accumulate data from the systems they control.
Several industries are using programmable logic controllers (PLC) to overhaul the electric operations of an object. In the manufacturing industry, PLCs control the automated machines that are used for the assembly line.
Over the past few years, marine engineers have incorporated PLC programming into commercial ships and yachts. These PLCs used to control various systems like HVAC systems, power management, and CCTV and alarm monitoring.
Why PLCs are important?
Now, many marine connoisseurs and commercial ships are opting for PLCs instead of standard programming controllers. There are several reasons for this swap.
Accuracy and Reliability
Programmable logic controllers (PLC) are precise to a fault. Unlike standard PC equipment, the PLCs failing is very less. If installed properly, PLCs allows you to exactly monitor things such as your alarm, HVAC, and navigation system. This prevents system breakdowns and makes for a smooth charter.
Performance
PLCs can easily perform multiple tasks (more intricate than those of PC systems). It features thousands of steps and can recycle itself within milliseconds. More advanced and innovative PLC systems have the capacity to react to perform tasks instantaneously at record speed.
Minimized maintenance cost
As science and technology are developing exponentially, now, manufacturers and marine electric engineers are developing a less complex PLC system. Most modern PLC controllers don't possess any hard drives or other moving parts that demand constant maintenance. Now, you can prepare your charter in a better way and can spend less time and money on replacing or updating hard drives.
Simplified Vessel Monitoring
Monitoring your vessel's operation is important for all onboard. One malfunction can lead to an unpredicted disaster. Modern PLC systems work instantaneously and allow you to see what is going on from all angles. PLC systems possess a power supply, an advanced process for analogue and digital inputs.
Ship Automation is a leading supplier in the marine industry that used to supply various ship automation parts to companies. The company offers essential spare parts like ship automation system, PLCs, marine automation system, and marine control system. By visiting the website of the company, you will learn more about the company.
Unitronics M-90 | Operator Panel & PLC
Categories: PLC & HMI, UnitronixSKU:
Maker : Unitronics
Model : M-90
Description : Operator Panel & PLC
Condition : Refurbished
Moeller PS-3 | Programmable Logic Controller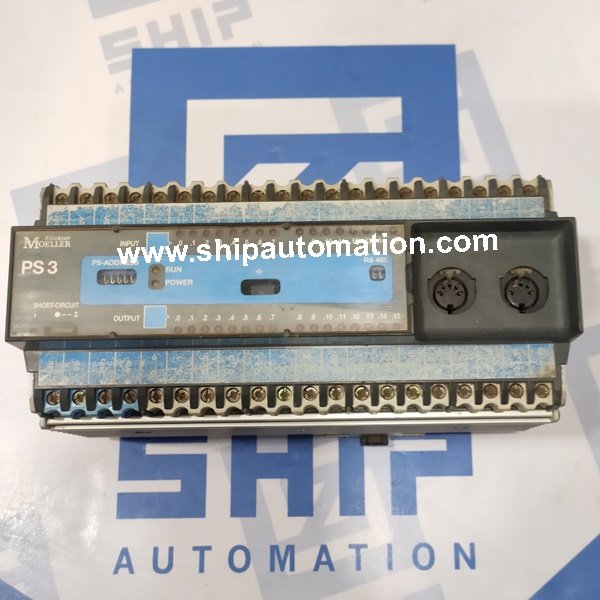 Categories: Moeller, PLC & HMISKU:
Maker : Moeller
Type : PS-3
Description : Programmable Logic Controller
Condition: refurbished
AEG Schneider 110 CPU 612 03 | Micro CPU
Categories: PLC & HMI, Schneider ElectricSKU:
Maker : AEG Schneider
Model : 110 CPU 612 03
Description : Micro CPU (Modicon)
Condition : New
Allen Bradley 1734-ACNR | I/O Controlnet Adapter Module
Categories: Allen Bradley, PLC & HMISKU:
Maker : Allen Bradley
Category No : 1734-ACNR
P/N : 96391078
Description : I/O Controlnet Adapter Module
Allen-Bradley TL53-GD2 | Safety Interlock Switch
Categories: Allen Bradley, PLC & HMISKU:
Maker : Allen Bradley
Model   : TL53-GD2
Description : Safety Interlock Switch
Allen-Bradley 1794-1F41 | FLEX™ I/O Isolated Input Analog Module
Categories: Allen Bradley, PLC & HMISKU:
Maker : Allen Bradley
Model   : 1794-1F41
Description : FLEX™ I/O Isolated Input Analog Module
Allen-Bradley 1794-OF41 | FLEX™ I/O Isolated Output Analog Module
Categories: Allen Bradley, PLC & HMISKU:
Maker : Allen Bradley
Model   : 1794-OF41
Description : FLEX™ I/O Isolated Output Analog Module
Allen-Bradley 1762-IF4 | 4CH Analog Input Module
Categories: Allen Bradley, PLC & HMISKU:
Maker : Allen Bradley
Model   : 1762-IF4
Description : 4CH Analog Input Module
Allen-Bradley 1794-IB10X086 | 24VDC Sink Input/Source Output Module
Categories: Allen Bradley, PLC & HMISKU:
Maker : Allen Bradley
Model   : 1794-IB10X086
Description : 24VDC Sink Input/Source Output Module
Allen-Bradley 1794-IEB | Analog Input Module
Categories: Allen Bradley, PLC & HMISKU:
Maker : Allen Bradley
Model   : 1794-IEB
Description : Analog Input Module
Allen-Bradley 1794-IB16 | 24 VDC Sink Input Module
Categories: Allen Bradley, PLC & HMISKU:
Maker : Allen Bradley
Model   : 1794-IB16
Description : 24 VDC Sink Input Module
Allen-Bradley 1734-485ASC | Module
Categories: Allen Bradley, PLC & HMISKU:
Maker : Allen Bradley
Model   : 1734-485ASC
Description : Module